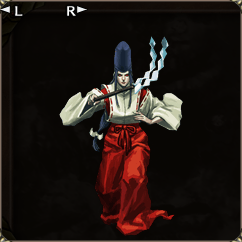 The Shaman also known as a Kannagi is a specialist for fighting the undead.
Stat Requirements: 12 Intelligence, 15 Piety, and 12 Agility
Alignments: Good or Evil
Skills:

Dispel - Able to use the Dispel skill in battle to instantly defeat ghosts.
Holy Physical Attack - Able to physically attack ghosts. Mistranslated as "Lightning" in the English version.
Instrumental - Able to use musical instruments in battle to cause various affects.
Barrier - Reflect magic spells back at caster.